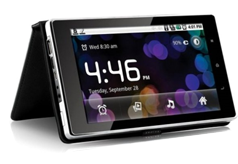 Tablets also known as mini pocket computers now come fully loaded with the most versatile Android, a technology that holds the promise to take the mobile development world to new heights. It has its own SDK, APIs, libraries, manuals etc to help Android developers create solutions which will make all devices powered by Android even more appealing.
Android development for tablet is not same as Android development for mobile phones because tablet development needs special considerations from both designing and development point of view. At Android Application Development (AAD) we have worked on Android projects for Smartphones as well as tablets. It is through our experience that we have learnt how a particular Android tablet project should be planned, designed and developed to ensure that it does not face any issues when deployed on tablets. That'€™s why we claim "€œWe are nonpareil for Android tablet development"€.
Our Android capabilities are high ranging and make us a one point place for all Android solutions. We list below some of our abilities on the platform:
Android Tablet Game Development:
In today'€™s world games offer more than entertainment they are vastly used for even marketing and branding as a part of companies marketing campaigns. With 50% of mobile devices using Android as their operating system, it is the latest thing to develop Android games. But this can go hay way if companies do not have appropriate knowledge of Android tablet game development, at AAD we have especially skilled Android game developers who have the knowledge required to merge the design specifics for tablet with the Android SDK for game development. Few game categories for which we have developed Android tablet games include:
Sport
Multiplayer
Retro Classic
Fighting
Education
Shooting
Puzzle and Mind games
Dress up
Racing
Casino and cards
Android Tablet Application Development
Applications are available for different walks and talks of life, but the trouble is that only few applications make it to the top list or are able to give the desired output. Reason for their failure can be many, but the main reason would be its inappropriate development. Yes, when an application is clumsy it fails to attract people. At AAD utmost care is taken to ensure that Android tablet application development is done in the best manner. Our in depth scrutinization at the various levels of the development process help us with our task. We make sure to embed outstanding Android application development features as mentioned below in our development works:
Stretchable GUI for 3D Graphics
Multi-tasking Capabilities
Compelling Bluetooth Support
Advanced Web Browser for Speedier Access
Improved Data Storage
3G, Flash and HD Support
Speedy Processor and Accelerometer for Enhanced User Experience
Android Tablet Lifestyle Application Development
A day has just 24 hours and we have so many things to do. If we were to do all our tasks on our own then probably there would be no time left for ourselves, hence we consider outside help as and when it is available. Mobile Lifestyle applications help us in a great way to make our lives easier. With Android tablet lifestyle applications, people can do most of their task at the touch of their hand, no need to take out some time and go to the concerned person, building, office, company or agency for accomplishing related tasks.
Our Android tablet lifestyle application development expertise rotates around developing applications which are cost effective, easy to operate and help the end users. Lifestyle application development categories we can cater to include the following:
Books
Recipe
Sports
Horoscope
Energy
Travel
Helps
Guides
Educational
Shopping
Social Network
Fitness
Wallpapers
Informational
Call and SMS Filters
Personal Security
Daily Task Manager
Message Managers
Alarms and Alerts
Health and Hygiene
Phone Feature Managers
Entertainment (Audio, Video and Print)
Android Tablet Banking Application Development
Present world without banking mobile applications would have been difficult to live in, but thanks to mobile application development technology evolution that we have number of banking mobile applications. Banking Android tablet applications have been designed to make it really easy for the tablet user to carry out his/her banking transactions.
At Android Application Development (AAD) we know for sure that m-banking applications are much different from the internet banking applications, and involve the use of appropriate mobile application development platform. We offer Android tablet banking application development services for banks and financial institutions to help them walk hand in hand with changing times of technological evolvement.
Our Android tablet banking application can be broadly classified into
Non-bank-led model And have related features for
Account Information like mini statements, account history, regular alerts, cheque deposit status, recent transactions, balance inquiry and others
Payments, Deposits, Withdrawals and Transfers including domestic and international transfers, micro and commercial payments, bill payments etc
Investments including real-time stock quotes, portfolio management with dedicated user area, alerts and notifications
Support including status of various transactions, check book and card requests, data and email messages, ATM location and transactions etc
Content Services for general information (not related to the bank), location based services and loyalty offers.
Android Tablet Social Application Development
With the overuse of online social networking sites by people of all age and sizes, real world networking has been replaced by virtual world social networking. In fact the domain has grown to be a multi billion business opportunity for many. Millions of users and applications make the industry livelier. There are social networking applications to allow people access the platform from different devices giving them the power to customize their own online space. There are various social networking sites used by the people and each site has its own development SDK and tool kits.
AAD has in depth knowledge of social media application development platforms (Android, Facebook REST API, OpenSocial API, 3rd party web servers, OpenSocial Integration with APIs, FQL, Google Social Graph API, FBML, Ajax, J2EE, PHP, Visual Studio Express Editions, Ruby on Rails and others) for Android tablets which it has used and desires to use in all Android tablet social networking application development projects. Here is a list of the disparate social networking applications that we can create for our clients:
NGO
Social Games
Communities
Broadcasting
Branding Applications
Content Management System
Integrated Solutions
Health, Fitness and Medical Emergency Help
Android Tablet Utility Application Development
Utility – we would refer to in the normal world, as things that we use in our day to day lives which specifically make our daily tasks easy, in the Android tablet development world utility applications refer to software which is developed to keep our tablets internal functioning smooth by allowing us to analyze, configure, optimize and maintain it. Android tablet utility development at AAD is done considering its main function that are not output driven but especially created to manage and enhance the tablet's internal functions. Utility software categories where we claim expertise include all of the following:
Data Compression
Disk Cleaners
Anti-virus
Disk Defragmenters
Backup
Disk Checkers
Disk Storage
File Managers
Archive
Memory Testers
Disk Compression
Disk Space Analyzers
Hex Editors
Disk Partitions
Cryptographic app
Network Utilities
System Monitors
Registry Cleaners
System Profilers
Screensavers
Android Tablet GPS Navigation Application Development
Before GPS, think of going to an unknown destination and there would be "How to reach there?" sort of expression on everyone's face. However with the GPS technology now travelling is always on the go, finding roads to the destination has never been all this easy. Along with GPS came technology which can be easily molded to create GPS enhanced applications. AAD has been working with GPS and Android for quite a long time now. We have developed some amazing GPS applications which guide passengers in the right direction to the destination. Using GPS AAD can design both
AAD is the Right Choice for Android Tablet Development
Online consortiums of Android applications and games for the tablets are proof enough to believe that Android application for a company is a must to get a firmer grip in the technology world. AAD experts make it simpler for clients to have an Android tablet application of their dreams to boost their future growth. We are the right choice because we promise:
Best Product Delivery
Outstanding ROI
Custom Application Designing
Applications that Consume Less Battery Power
Cost Efficient Development
Higher Level Innovation
Features aimed at Enhancing Application Performance