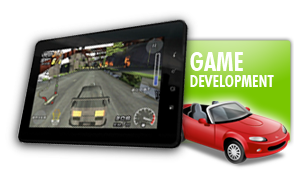 So many games in the market have made the competition really tough, it is the time to think out of the box, just shooting and racing games will not do, to be successful at mobile game development it is important to think out of the box. At Android Application Development, we are different because we think differently about Android game development. We are seldom convinced with the idea of creating just a simple game, we want something extraordinary, and it is our thirst for something extra ordinary that helps us develop the unthinkable. Our Android game development approach makes us distinct from the crowd.
At AAD each aspect of game development is given individual importance and stressed to an extent that we receive the best from it. Our Android game development focus is always on the
Simple -Simple design, easy to understand and play
Graphics -They are stunning, is the best we can say
Background story – Games rotates around an interesting story
Sound – Great sound effects make the game even more interesting
Action and Reaction – These are designed based on the game's concept
Player Relation -Players are hooked to the game instantly as they are able to relate to it
A Game for All at AAd's Android Game Development Centre
No two people are same in their choices, games are so many, but it is impossible to please all with the same game, hence the different types of games to please all. Some people like fun games, while some like gun games, as an Android game development company we have exhaustive experience developing games related to:
Action
Thrill
Stunts
Puzzle
Fun
Dress up
3D Flash
Racing
Football
Baseball
Cricket
Adventure
Multiplayer
Motor sport
Hide and seek
Complete the story
Two Options to Android Game Development
Yes, we have two options to help our clients achieve their objective of Android game development cost effectively. Either they can give us the concept and we will work on the project from starting till the end or they can hire any of our Android game developers to work with them on their Android game development. When our clients select the second option that is to hire an Android developer they can be rest assured that our values will be also seen through their project though only a few selected (by client) people will work on the project.
No Stop to Our Android Game Development Capability
Literally there is no end to our Android game development capability, clients can either come to us with an idea or if they want we can come up with a unique idea for their game and develop either of them into something never experienced before. An idea molded through perfect development can change the game called business.
Request A Quote
FREE QUOTE
let us know what is needed and we will be glad to give you
Hire Android Developers
Our Best Android developers can be hired on as required bases
Contact us
WANT TO HIRE US ?
Just fill the form and we will get back to you