As a company dedicated to Android application development, Android Application Development (AAD) has expertise delivering adjustable Android solutions through our platform skills and knowledge. Android the latest buzz in the mobile development industry offers immense opportunities for customization and development of profitable applications which are also high on output delivery. Our Android developers create adaptive and agile applications to make it easier for our clients to predict and prepare for unforeseen circumstances.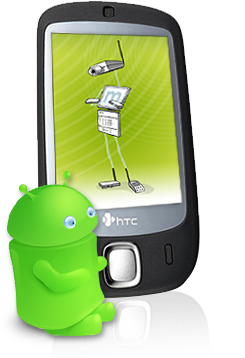 Before AAD starts work on any Android development project we promise ourselves to deliver only the best. Our platform skills and use of different tools available for Android application development aide us deliver the best. Things we use for Android development can be listed as below:
ProGuard
Traceview
sqlite3
zipalign
Android SDK
Emulator
ierarchy Viewer
Layoutopt
hprof-conv
Traceview
sqlite3
zipalign
AVD Manager
Dalvik Debug Monitor Server (DDMS)
Android Debug Bridge (AAD)
Android development tools like aapt, dexdump, aidl
Our Android Application Development Services are Versatile
Changing technology emphasizes the need for versatile applications which can be tailored to meet the present time needs. While Android Application Development (AAD) promises to deliver the best possible we also promise to deliver versatile applications to include:
Custom Android Application Development
Social Networking Applications
Android Friendly Website Design and Development
Multimedia/Entertainment Applications
Business Application
Game Development
GPS Enhanced Applications
Internet Enabled Applications
We Would Be Glad to Offer Our Services To:
Glad that this question came up, we offer our Android application development services to multiple industry types with the promise to do it to the best, no matter what the industry type is. Some of the industries catered to include:
Technology
Insurance
Media
Information
Banking
Retail
Medicine
Entertainment
Health and Fitness
Telecommunications
Social Networking
Finance Institutions
AAD brings along the benefit of specialized Android app development team, cost effective development, intellectual property rights, highly secure development, on time project completion and delivery, client centric approach and 24X7 support.
Request A Quote
FREE QUOTE
let us know what is needed and we will be glad to give you
Hire Android Developers
Our Best
Android developers can be hired on as required bases
Contact us
WANT TO HIRE US ?
Just fill the form and we will get back to you